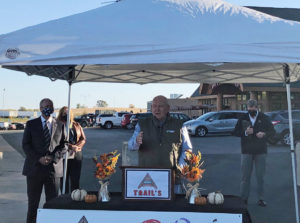 USDA Secretary Sonny Perdue was in Albert Lea, Minnesota on Thursday to announce $22 million out of the up to $100 million in grants available to increase American ethanol and biodiesel sales under the Higher Blends Infrastructure Incentive Program (HBIIP) to recipients in 14 states. The initial $22 million in HBIIP investments are projected to increase ethanol demand by nearly 150 million gallons annually.
Congressman Jim Hagedorn (R-MN) and Minnesota Farm Bureau President Kevin Paap joined Secretary Perdue at Trail's Travel Center in Albert Lea, one of the grant recipients. During the announcement, the Secretary assured the industry that the administration is committed to maintaining the Renewable Fuel Standard (RFS). "Those small refinery waivers are absolutely off the table," said Perdue. "Fifteen billion gallons will be 15 billion gallons."
Listen to their comments here:
HBIIP Grants announced in Minnesota 11:42
USDA is funding projects in California, Florida, Iowa, Illinois, Indiana, Kansas, Kentucky, Minnesota, Missouri, Nebraska, New York, Ohio, Utah and Wisconsin and will be announcing the remaining HBIIP investments in the coming weeks.
Trail's Travel Center in Albert Lea, Minnesota was one of the recipients of grants announced Thursday.
Rocky Trail, owner of Trail's Travel Center, Albert Lea, MN
Secretary Perdue also visited a Casey's location in Ankeny, Iowa with Senator Chuck Grassley (R-IA) to announce HBIIP grants.
Sen Grassley and Secy Perdue announce HBIIP grants in Iowa