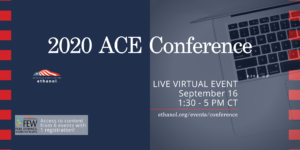 The American Coalition for Ethanol (ACE) 33rd Annual Conference is being held in conjunction with the 2020 International Fuel Ethanol Workshop (FEW) & Expo as a virtual event, on September 16.
Due to the outbreak of COVID-19 and the economic hardship it's brought to bear on the ethanol industry, ACE leadership believes a virtual event, paired with the FEW, will provide members with a safe, robust opportunity to catch up on the latest industry news, network with peers, and discover new technology. The conference theme of "Rising Up" embodies the resilience demonstrated by those in the ethanol industry in response to the pandemic and the grit these individuals possess to rise together – stronger than before.
This virtual ag newsroom includes links to photos and audio content available free of charge for digital or print publication or broadcast.
Press Releases
ACE Annual Conference Being Held Virtually with the Fuel Ethanol Workshop & Expo September 16
ACE Elects Board of Directors During Annual Business Meeting
ACE Helps Retailers Determine E15 Compatibility by Launching "Flex Check" Tool
ACE Leadership Addresses Virtual Conference Attendees, Issues Update to Pre-Recorded Content
ACE Unveils Awards Video During Virtual 33rd Annual Conference
Photos/Images
Audio
Preview interview with Shannon Gustafson, ACE Sr. Director of Operations and Programming
ACE 2020 preview interview, Shannon Gustafson (8:43)


Interview with Brian Jennings, ACE CEO
ACE 2020 Interview, Brian Jennings (12:52)


Opening remarks from Brian Jennings, ACE CEO
ACE 2020 CEO Brian Jennings remarks (10:06)


Board president Duane Kristensen, Chief Ethanol Fuels, remarks
ACE 2020 Duane Kristensen remarks (3:45)


Randy Gard, COO of Pump & Pantry/Bosselman
ACE 2020 Interview with Randy Gard, Bosselman (8:35)

Tom Kloza, Global Head of Energy Analysis, Oil Price Information Service
ACE 2020 Interview with Tom Kloza, OPIS (11:35)


Neil Koehler, Pacific Ethanol, co-founder and co-CEO
ACE 2020 Interview, Neil Koehler, Pacific Ethanol (11:40)


Dave Sovereign, Golden Grain Energy
ACE 2020 Interview Dave Sovereign, Golden Grain Energy (4:45)


ACE Helps Retailers Determine E15 Compatibility by Launching "Flex Check" Tool
Ron Lamberty, Senior Vice President of ACE, explains Flex Check
ACE 2020 Ron Lamberty, Flex Check tool (2:35)

USDA Deputy Secretary Steve Censky remarks – ACE Paul Dana Award winner
ACE 2020 USDA Deputy Secretary Steve Censky (7:42)

ACE Unveils Awards Video During Virtual 33rd Annual Conference
Bob Scott, former ACE Board president, receives Merle Anderson award
ACE 2020 Merle Anderson Award presentation to Bob Scott (7:59)
Jan tenBensel, Nebraska farmer and chair of the Nebraska Ethanol Board, Grassroots Award winner
ACE 2020 Grassroots Award presentation to Jan tenBensel, Nebraska (6:39)

Retailers panel
Nathaniel Doddridge, Vice President of Fuels, Casey's General Stores
ACE 2020 Nathaniel Doddridge, Casey's (4:02)
Randy Gard, COO, Pump & Pantry/Bosselman
ACE 2020 Randy Gard, Bosselman Enterprises (8:16)

Producer Perspectives Panel
Duane Kristensen, Chief Ethanol Fuels; Dave Sovereign, Golden Grain Energy; Neil Koehler, Pacific Ethanol
ACE 2020 Producer Perspectives Panel (29:42)