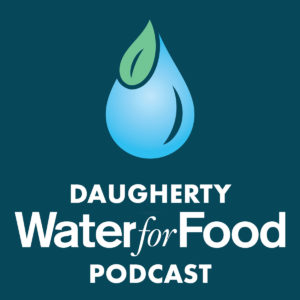 Since 2010, the Daugherty Water for Food Global Institute (DWFI) at the University of Nebraska has worked toward one goal: a food and water secure world — one in which global food security is ensured without compromising the use of water to meet other essential human and environmental needs. It's a daunting vision, but one that is vitally important.
To amplify the voices of those making waves in this space, DWFI has created the Daugherty Water for Food Podcast, available now on Apple Podcasts, Spotify, Stitcher and Google Podcasts. New episodes will be available approximately once a month and feature those contributing to water and food security, both globally and domestically.
In the first episode, award-winning chef, entrepreneur, and agriculture advocate, Louise Mabulo, discusses youth and sustainable solutions to food security. Mabulo promotes sustainable agriculture and farm-to-table cuisine and was recently awarded as a Young Champion of the Earth by United Nations Environment Programme.
Users can subscribe to the podcast or listen to recent episodes on the podcast webpage: http://go.unl.edu/waterforfoodpodcast.
###
About the Robert B. Daugherty Water for Food Global Institute at the University of Nebraska
The Robert B. Daugherty Water for Food Global Institute at the University of Nebraska was founded in 2010 to address the global challenge of achieving food security with less stress on water resources through improved water management in agricultural and food systems. We are committed to ensuring a water and food secure world while maintaining the use of water for other human and environmental needs. www.waterforfood.nebraska.edu