Annual Awards Program Recognizes Innovation in Agricultural Technologies Around the Globe
Farmobile, The Independent Ag Data Company™, today announced it is the recipient of the 'Blockchain-based AgTech Solution of the Year' and 'Yield Forecasting Solution of the Year' awards in the inaugural AgTech Breakthrough Awards program. These awards are conducted by AgTech Breakthrough, a leading market intelligence organization that recognizes the top companies, technologies and products in the global AgTech market today.
The mission of the AgTech Breakthrough Awards is to honor excellence and recognize innovation in a range of agricultural and food technology categories, including Internet-of-Things (IoT) and Artificial Intelligence (AI) based agricultural technologies, farm management, indoor farming, food quality, data analytics and many more. This year's program attracted more than 1,750 nominations from over 15 different countries throughout the world.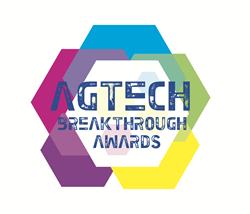 This year, Farmobile was awarded the Blockchain-based AgTech Solution of the Year for the Farmobile DataStoreSM exchange, and Yield Forecasting Solution of the Year for the Farmobile IndexTM. Farmobile builds foundational data technology to solve the agriculture industry's greatest challenges and empowers farmers and their ag channel partners with data that guides in-the-field decision making.
"Farmobile's innovative use of blockchain technology is redefining how the agriculture industry collects, stores, protects, and shares important data," said Bryan Vaughn, Managing Director of AgTech Breakthrough Awards. "By both creating new revenue streams for farmers and helping industry partners use ag data to solve the industry's biggest challenges, Farmobile is making the industry smarter and more sustainable."
The Farmobile DataStore exchange leverages blockchain technology to protect privacy, and preserve the anonymity of the farmer-subscribers, who choose to use the world's first online marketplace that digitally connects them with potential data buyers. Farmobile DataStore participants are able to license single-use copies of their data to approved third-party buyers for a recurring revenue source.
Farmobile's patented blockchain technology provides security for both farmers and buyers by verifying and tracking transactions for both parties every step of the way. Leveraging blockchain allows the company to continually check and recheck data access points, so customers know their information is secure.
"At Farmobile, we believe that farmers own their data outright, and should realize its full value and benefit," said Farmobile CEO, Jason Tatge. "Our DataStore was purpose-built to not only compensate growers for sharing the data they themselves created, but also to create an immediate incentive to collect high quality data in the first place. With Farmobile, data creators not only get paid for their data, they can also use it to fuel in-the-field decision making, as with the Farmobile Index."
Farmobile also created the Farmobile Index (for both Planting and Harvest) to give its subscribers daily updates on crop progress as it happens during farming's most crucial times of the year. The Farmobile Index provides daily, aggregated as-planted and as-harvested state-level crop data generated by and for subscribers, so they get more timely estimates on commodity markets, reducing volatility and protecting their bottom line.
"Rather than drone or satellite imagery, machine-generated data give us the best and most accurate picture about what's happening in fields all over the country," said Jason Tatge. "We created the Farmobile Index so farmers could get more timely updates — especially during planting and harvest — that can help them more effectively market their commodities. We're thrilled that the AgTech Breakthrough Awards realize the tremendous value this is going to have in agriculture."
Being named a winner of the AgTech Breakthrough Awards is just the latest achievement for the company, who earlier this year released additional products and services, including Services+ for Ag Retail Fleet, a customized service and consulting offering to help ag retailers identify equipment efficiencies and realize huge savings on fleet management costs.
"We will continue to find ways to help farmers and ag retailers improve their performance, efficiency and, ultimately, their bottom-line," says Tatge. To learn more about Farmobile, visit www.farmobile.com.
###
About Farmobile
Farmobile LLC — The Independent Ag Data Company™ — builds foundational data technology to solve the industry's greatest challenges from farm and field to across the ag-food supply chain. Farmobile enables farmers and channel partners to collect, share and monetize data.
Agriculture doesn't use a standard data format. Farmobile does. Farmobile specializes in collecting second-by-second agronomic and machine data points across mixed farm and ag retail fleets. The Farmobile DataEngineSM platform turns raw data into its own unique standardized, visual Electronic Field Records (EFRs) making it easy to gain insights, share and power decision-making.
Data is among the most valuable commodities a farm produces and farmers should benefit from it. The Farmobile DataStoreSM exchange is the first to digitally connect farmers with data buyers. Based in Leawood, KS, Farmobile proudly resides in the heart of the Midwest. For more information visit farmobile.com.
About AgTech Breakthrough Awards
Part of Tech Breakthrough, a leading market intelligence and recognition platform for global technology innovation and leadership, the AgTech Breakthrough Awards program is devoted to honoring excellence in agricultural technologies, services, companies and products. The AgTech Breakthrough Awards program provides a forum for public recognition around the achievements of AgTech companies and solutions in categories including farm management, indoor farming, automation, IoT and robotics, food quality, analytics and more. For more information visit AgTechBreakthrough.com.
Media Contact:
Cam Wilson
Jones-Dilworth, Inc.
cam@jones-dilworth.com
617.997.9715