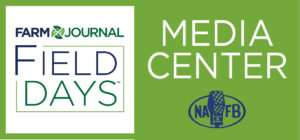 Farm Journal Field Days is the New American Farm Show™. It is a celebration of virtual learning and entertainment for farmers, ranchers and all of agriculture.
From August 25-27, Farm Journal Field Days will take over the eyes and ears of the ag industry. Anchored by live events on farms in Jesup, Iowa, (August 25) and Bryan, Ohio, (August 27), farmers, ranchers and growers across America will join in a personalized experience on virtual platforms, have the opportunity to interact with speakers and learn more from input and service providers about products and technologies that can bring greater profitability to their operations.
Media can register for this event here.
We will be including photos from the on-farm event on August 25th and interviews with sponsors of the unique virtual event. This virtual media newsroom is sponsored by the National Association of Farm Broadcasting (NAFB).
This virtual ag newsroom includes links to photos and audio content available free of charge for digital or print publication or broadcast.
Photos
2020 Farm Journal Field Days Photo Album
Audio
Preview Interview with Tyne Morgan, Farm Journal
(10:55)
Interview with Iowa farm host Ben Riensche
(8:07)
FJFD presentation - Emily Skor, Growth Energy
(14:15)
FJFD presentation - Kanlaya Barr, John Deere
(23:00)
Sponsor Interviews
BASF
Interview with Scott Kay, BASF (7:45)


Bazooka Farmstar
Interview with Kendra Ellis, Bazooka Farmstar (4:41)


Case IH
Interview with Rebecca Ivey, Case IH (4:12)


Channel
Interview with Brock Helgerson, Channel (5:35)


Claas
Interview with Daryl Theis, Claas (5:30)


Climate FieldView
Interview with Meredith Adams, Climate FieldView (3:55)


Culver's
Interview with Alison Wedig, Culver's (4:15)


Dekalb/Asgrow
Interview with Jessica Herdes, Dekalb/Asgrow (6:12)


Drago
Interview with Dustin Bollig, Drago (6:43)


FMC
Interview with Gail Stratman, FMC (6:30)


Golden Harvest – Syngenta
Interview with Stephanie Porter, Golden Harvest, Syngenta (3:59)


H&S Manufacturing
Interview with Ron Zygarlicke, H&S (5:29)


High Grade Hemp
Interview with Jonathan Mackintosh, High Grade Hemp (4:25)


Indigo
Interview with Heather Gieseke, Indigo (4:47)


Kinze
Interview with Susanne Veatch, Kinze (9:37)


Merck
Interview with Tyler Dewey, Merck (2:39)


Morton Buildings
Interview with Lisa Bocklage, Morton Buildings (4:38)


New Holland
Interview with Brent Prauner, New Holland (3:18)


Interview with Mark Lowery, New Holland
(8:10)
NK Seeds – Syngenta
Interview with Eric Miller, NK, Syngenta (4:01)


Nufarm
Interview with Brandon Scott, Nufarm (5:54)


Pivot Bio
Interview with Ernie Sanders, Pivot Bio (3:36)


Senterra
Interview with Eric Taipale, Sentera (6:56)


Sukup Manufacturing
Interview with Steve Sukup, Sukup Mfg. (6:11)


Trimble
Interview with Guillermo Perez-Iturbe, Trimble (6:27)


Valley Irrigation
Interview with Jill Zwiener, Valley (5:24)