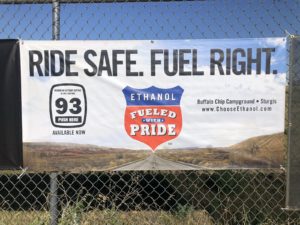 The 80th annual Sturgis Motorcycle Rally gets underway in South Dakota this weekend, and the Renewable Fuels Association will be setting up once again at the legendary Buffalo Chip Campground to spread the good news about ethanol and motorcycles.
RFA will again host Free Fuel Happy Hours at the rally, providing a free tank of 93 octane E10 (10% ethanol) for motorcycles, a ceremonial t-shirt and ethanol-based hand sanitizer. The free tank giveaway will be held from 10 a.m. to 1 p.m. Tuesday through Thursday, Aug. 11-13, at the CrossRoads area of the Buffalo Chip Campground. The fuel station that will feature the Free Fuel Happy Hours was donated by the RFA in 2017. RFA will also have a presence throughout the campground with banners, videos on the jumbotrons, and addressing the concert crowd each night.
This virtual ag newsroom includes links to photos and audio content available free of charge for digital or print publication or broadcast.
News Releases
RFA and Ethanol Once Again Fuel Sturgis Motorcycle Rally
Photos
RFA at 80th Sturgis Motorcycle Rally Photos
Audio
Sturgis promotion interview with Robert White, RFA
Robert White interviews former RFA Chairman Mick Henderson, Commonwealth Agri-Energy, Kentucky
Interview with Mick Henderson, Commonwealth Agri-Energy
Robert White interviews Minnesota farmers and former RFA interns Austin and Evan Ludowese
Interview with Austin and Evan Ludowese, MN
Robert White interviews Doug Brandmahl, biker and ethanol promoter from Richmond, Virginia
Interview with Doug Brandmahl, VA