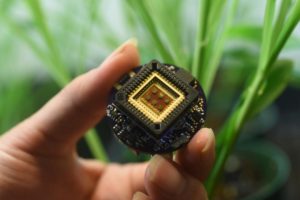 The world population is estimated to exceed 10 billion by 2050. Feeding that burgeoning population drives researchers at N.C. Plant Sciences Initiative and analytical software company SAS to find a solution quickly.
"We're at a critical point in human history where the threat of widespread hunger is more real than ever," said Jim Goodnight, SAS CEO. "We have the opportunity to help farmers be more productive through the power of AI and analytics and get more food from fields to tables around the world."
This public-private partnership will enhance agricultural research and analytics and develop talent by embedding full-time data scientists within the N.C. PSI to collaborate on various research efforts that will increase crop yields, create new varieties, extend growing seasons, enhance sustainability and produce new and improved technologies.
For example, SAS is working with NC State researchers to use big data to determine what factors impact sweet potato size and shape, improving profitability for North Carolina growers, producers and distributors.