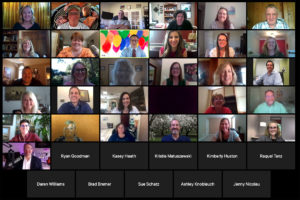 Zoom provided the platform for this year's virtual presentation of the Agricultural Relations Council (ARC) Golden ARC Awards.
The top award – Golden ARC de Excellence – went to Padilla, with its "A Recipe for Success: Fruits and Vegetables are Key Ingredients for Healthier, Happier Lives" entry. Padilla staff Wendy Reinhardt Kapsak and Michelle Kijek created this award-winning marketing communications campaign.
This year's Golden ARC Awards program drew a record number of campaign and tactics entries from more than 20 contestants. "2019 was a great year for work in ag PR and the number of entries is proof of that. The deadline for entries hit right when people were transitioning to working from home due to the pandemic, but that didn't stop our members from wanting to show off their hard work," said ARC Executive Director Kristy Mach. "The important work communicating agriculture's story continues and we are seeing the pay off during these times as more people are cooking at home and connecting to the important role agriculture plays in their daily lives." Golden ARC Award judges selected 24 entries as Golden ARC Award winners and gave Merit Awards to 19 entries.
FLM Harvest took home the most "hardware" by winning four Golden ARC Awards and three Merit Awards. Kansas Farm Bureau won four Golden ARC Awards; Padilla received three Golden ARC Awards and two Merit Awards; and Bader Rutter earned four Golden ARC Awards.
See a full list of winners here (pdf).
You can listen to the presentation of awards here: Golden ARC Awards