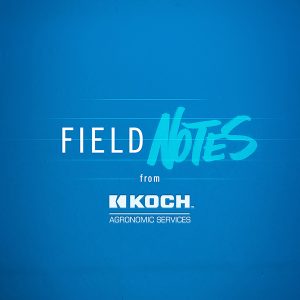 Welcome to Episode 4 of the Field Notes podcast series from Koch Agronomic Services, where we break down the science and technology behind agronomy to help growers do more with less. Crop science experts and others in the agriculture industry will discuss topics ranging from nitrogen loss and soil health to ways growers can increase operational efficiencies.
The Decision-Making Process
In this podcast, two retailers discuss the decision-making process that agronomists walk growers through each year. Donnell DeLosh, agronomy production supervisor for Country Partners Cooperative, and Thad Russell, field sales agronomist with Central Valley Ag, talk about the information most important to growers when deciding how to protect their nitrogen investments. Discover how and when they start those conversations and what products are working for their growers.
You can listen to the program here: The Decision-Making Process
And to make sure you don't miss an episode, choose an option to subscribe
For Spotify on your computer download the desktop app.