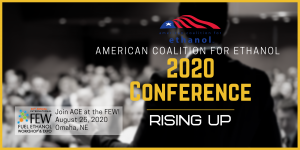 As the coronavirus pandemic has had a devastating economic impact on the ethanol industry, meetings have also been changing to hopefully give more producers the ability to attend.
The American Coalition for Ethanol's Annual Conference will now be held in conjunction with the 2020 International Fuel Ethanol Workshop (FEW) & Expo in Omaha, Nebraska, on August 25. FEW had already been postponed from June 15-17, 2020 to August 24-26, and changed venue from Minneapolis to Omaha. The ACE annual meeting had been scheduled for the week of August 10 in Minneapolis.
ACE already had to cancel its annual Washington DC Fly-in event scheduled for April, which Jennings says they are planning now for October.
In this interview, Jennings discusses the event changes, as well as concerns with EPA over so-called "gap year" waiver requests, the need for stimulus aid for ethanol producers from Congress, and the role E15 and higher blends can play in recovery for the industry.
Interview with ACE CEO Brian Jennings
14:11