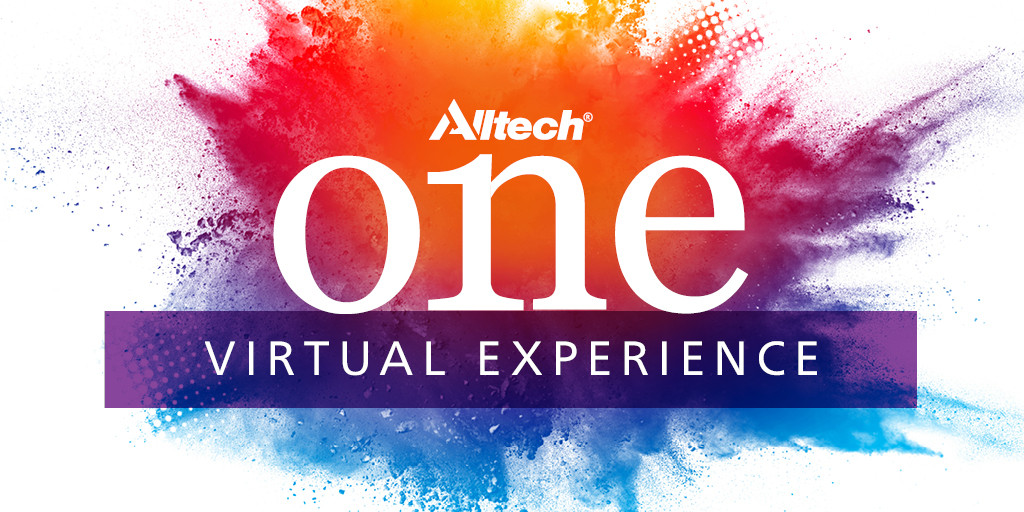 Alltech has always been ahead of the curve as an animal health company and they are leading the way when it comes to response to the COVID-19. The global company was the first to make changes in a conference by announcing on March 9 that its annual ONE: The Alltech Ideas Conference (ONE) would go on as a virtual event.
This virtual ag newsroom includes links to photos and audio content available free of charge for digital or print publication or broadcast.
The annual event was scheduled for May 17–19 in Lexington, Kentucky, and typically assembles more than 3,500 attendees from 70 countries. In light of rising health concerns related to coronavirus, livestreamed keynote presentations and on-demand video content from some of the world's leading industry experts will launch on the Alltech ONE Virtual Experience website May 18.
Alltech has also created a special discussion series, Forging the Future of the Farm & Food Chain.
Learn more about both in this preview interview with Dr. Mark Lyons, president and CEO of Alltech.
ONE preview interview with Alltech CEO Dr. Mark Lyons (16:30)
COVID-19 will frame much of the discussion, and one presentation will feature South Dakota cattle rancher and BEEF Daily blogger Amanda Radke who will be discussing how this crisis is shifting our mindset and creating new opportunities in the livestock industry.
Alltech ONE interview with Amanda Radke, BEEF Daily (7:15)
The Pig Focus Session includes a presentation by Dr. Andrew Bents, Swine Technical Veterinarian for Hubbard Feeds, on a new solution that can help reduce vice behaviors like tail biting in pigs called AllBite™.
Alltech ONE interview with Dr. Andrew Bents, Hubbard Feeds (5:48)
Alltech President and CEO Dr. Mark Lyons welcomes participants to the Alltech ONE Virtual Experience
Alltech ONE Virtual welcome from Dr. Mark Lyons (18:03)
Joseph Opoku Gakpo of Ghana is the recipient of the IFAJ–Alltech International Award for Leadership in Agricultural Journalism – presented virtually by Alltech CEO Mark Lyons and IFAJ president Owen Roberts
Alltech ONE Virtual IFAJ award presentation (13:56)
Interview with Ghana journalist Joseph Opoku Gakpo, IFAJ–Alltech award winner
Alltech ONE Virtual interview with Joseph Opoku Gakpo, Ghana (11:53)
Interview with Dr. Kayla Price, Alltech Canada – Poultry Focus Session on Antibiotic Resistance
Alltech ONE Virtual interview with Dr. Kayla Price, Alltech Canada (12:03)
Interview with Jorge Delgado, Alltech On-farm dairy training specialist – How Alltech Specialists are Helping Producers Cope with COVID-19
Alltech ONE Virtual interview with Jorge Delgado, On-farm dairy training specialist (12:16)
Interview with Dr. Vaughn Holder Research Group Director, Ruminants, Alltech – Examining the Environmental Hoofprint of Beef
Alltech ONE Virtual interview with Dr. Vaughn Holder (8:32)
Interview with keynote speaker Jack Bobo, CEO of Futurity – Farming, Food and the Shifting Horizon
Alltech ONE Virtual interview with Jack Bobo, CEO of Futurity (9:48)
Interview with keynote speaker Dr. Frank Mitloehner, UC Davis Animal Science professor – Clearing the Air: Debunking the Myths of Agriculture
Alltech ONE Virtual interview with Dr. Frank Mitloehner, UC Davis (11:11)
Closing Keynote from Alltech CEO Dr. Mark Lyons – Planet of Plenty: We're in this Together
Alltech ONE Virtual closing keynote Dr. Mark Lyons (33:36)