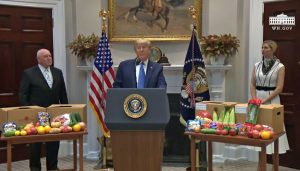 President Donald Trump Tuesday announced details of the Coronavirus Food Assistance Program (CFAP), which will provide up to $16 billion in direct payments to deliver relief to America's farmers and ranchers impacted by the coronavirus pandemic.
"These payments will compensate farmers for losses related to the global pandemic caused by China," said President Trump, who was joined making the announcement by Agriculture Secretary Sonny Perdue and Senior Advisor Ivanka Trump.
In addition to this direct support to farmers and ranchers, USDA's Farmers to Families Food Box program is partnering with regional and local distributors, whose work forces have been significantly impacted by the closure of many restaurants, hotels, and other food service entities, to purchase $3 billion in fresh produce, dairy, and meat and deliver boxes to Americans in need.
Beginning May 26, the U.S. Department of Agriculture (USDA), through the Farm Service Agency (FSA), will be accepting applications from agricultural producers who have suffered losses.
Payments will go directly to farmers who have suffered a five percent or greater price loss and who are facing significant marketing costs due to the coronavirus. Eligible commodities include cattle, hog, dairy, specialty crops and row crops. Payments will be limited to $250,000 per person.
Listen to the full announcement and press conference here:
Pres. Trump announces COVID-19 aid for agriculture