Reintroduced products offer female-specific fit, iconic durability and new fabric technology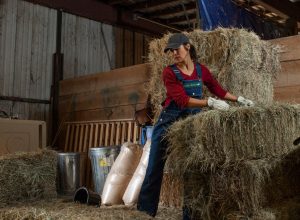 Liberty, an iconic American brand and manufacturer of bib overalls since 1912, has reintroduced its line of women's bibs after discontinuing the female-focused products 18 years ago. The new line includes both denim and duck bib overalls that offer the unwavering quality and craftsmanship Liberty is known for, while featuring female-specific fits and all-new flexible fabric technology.
"Bringing back our women's line has been a top priority for Liberty," said Brad Bromstead, Vice President of Marketing, Merchandising and Design for Liberty. "Hard-working women have worn our men's products for years. We believe they deserve workwear that is not only durable and dependable, but also fits comfortably. Our new women's bibs are designed to fill that void."
The new flexible fabric technology in the denim bibs incorporates a cotton, polyester and spandex blend for increased mobility and comfort. The duck bibs utilize a cotton/spandex blend to offer added durability while maintaining fabric flexibility.
Both styles are constructed with triple-stitched seams, adjustable straps, reinforced front and back pockets, and a washed-for-comfort finish to create durable pieces of workwear perfect for tackling outdoor tasks and labor.
The full product line of Liberty women's bibs (MSRP $60) is available now at select retailers and at https://libertybibs.com.
###
IMAGES
Hi-res images
FOR MORE INFORMATION, CONTACT:
Nathan Borowski, Backbone Media
nathan.borowski@backbonemedia.net
(970) 963-4873
About Liberty
Liberty was founded in 1912 on a foundation of providing tough denim overall bibs to tough American workers. For more than 100 years that foundation has remained unchanged. The company continues its commitment to offering durable, high-quality bibs for hard-working people in need of products as dependable as they are. For more information about Liberty, visit https://libertybibs.com.