President Donald Trump addressed farmer and rancher members of the American Farm Bureau Federation for the third year in a row Sunday, and promised to be back next year while continuing to fight for what is important to them.
The president touted last week's historic trade deal with China and Senate passage of the USMCA, as well as repeal of WOTUS and other regulatory burdens and also touched on popular topics such as elimination of the estate tax, need for immigration reform, and ethanol.
2020 AFBF President Trump address
(51:55)
The 101st American Farm Bureau Federation Annual Convention in Austin, Texas started off on a somber note with the announcement by AFBF Vice President Scott VanderWal at the general session Sunday morning that the wife of AFBF President Zippy Duvall had passed away the night before.
2020 AFBF VP Scott VanderWal comments
(2:46)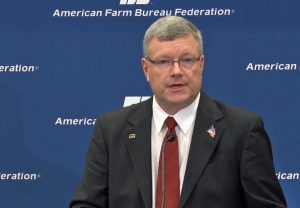 VanderWal filled in for Duvall at the convention, providing a policy update for Farm Bureau members during the general session, and then he answered questions from the media during a press conference. Reporter questions were not on mic, but the sound bites deal with the China trade deal, MFP payments and the farm economy, impacts of trade disputes and administration actions, WOTUS, wetlands, dairy policy, and ethanol.
2020 AFBF VP Scott VanderWal opening remarks
(13:34)
2020 AFBF VP Scott VanderWal press conference
(10:06)