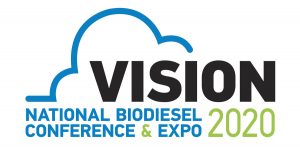 The National Biodiesel Board unveils its "Vision 2020" for the industry during the National Biodiesel Conference & Expo in Tampa, Florida on January 20-23.
This virtual ag newsroom includes links to photos and audio content available free of charge for digital or print publication or broadcast.
Full multi-media coverage of the conference can be found for the 15th year on the Biodiesel Conference Blog. Check out archives going back to the 2006 conference in San Diego.
Photos
2020 National Biodiesel Conference photo album
Audio
Conference preview interview with Samantha Turner, NBB Communications Mgr
(6:02)
NBB2020 Opening session - NBB CEO Donnell Rehagen
(18:52)
NBB2020 NBB CEO Donnell Rehagen press gaggle
(14:23)
NBB2020 Opening session - NBB VP of Federal Affairs Kurt Kovarik
(11:50)
NBB2020 Remarks from new NBB Chairman Chad Stone, Renewable Energy Group
(13:11)
NBB2020 Impact Award - Mike Erker, USB
(2:00)
Biodiesel Policy Panel –
Kurt Kovarik, National Biodiesel Board; Ed Royce, Brownstein Hyatt Farber Schreck; Nadeam Elshami, Brownstein Hyatt Farber Schreck; Anthony Reed, Archer Daniels Midland; Ryan Findlay, American Soybean Association; Kirk Leeds, Iowa Soybean Association
NBB2020 Biodiesel Policy Panel (42:00)

Vehicle Showcase presentations
NBB2020 Presentation John Eichberger, Fuels Institute (7:52)

NBB2020 Steve Howell, M4 Consulting
(3:08)
NBB2020 George Survant, National Truck Equipment Association
(6:02)
NBB2020 Steve Geick, John Deere
(5:38)
NBB2020 Vernon Allen, Isuzu
(4:00)
Catching the Heat Wave – Bioheat Panel
Paul Nazzaro, Advanced Fuel Solutions; John Huber, National Oilheat Research Alliance; Sean Cota, New England Fuel Institute; Charles Uglietto, National Oilheat Research Alliance/Cubby Oil & Energy; Michael Ferrante, Massachusetts Energy Marketers Association
NBB2020 Bioheat Panel (49:30)
Interviews
NBB2020 Interview with NBB Chairman Chad Stone, Renewable Energy Group
(8:18)
NBB2020 Interview with Ryan Findlay, American Soybean Association CEO
(7:52)
NBB2020 Interview with NBB board member Rob Shaffer, Illinois farmer
(5:46)
NBB2020 Interview with Scott Gaffner, Illinois Soybean Assn
(4:11)
NBB2020 Interview with Don Scott, NBB Director of Sustainability
(5:58)
NBB2020 Interview with Danial Siksay, TN Clean Fuels
(4:28)
NBB2020 Interview with Tom Slunecka, Plasma Blue
(5:58)
NBB2020 Interview with Joe Jobe, Plasma Blue
(3:10)