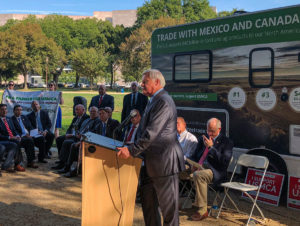 Farmers for Free Trade brought its #MotorcadeForTrade to Washington D.C. Thursday to highlight the importance of ag trade with Canada and Mexico and the U.S.-Mexico-Canada Agreement (USMCA) that Congress will consider to upgrade NAFTA.
Members of Congress and farm leaders discussed how USMCA provides farmers with new market access while maintaining a zero-tariff platform, and stressed the need for Congressional leaders move forward with consideration of the agreement without further delay.
Among those who spoke were House Agriculture Committee Chair Rep. Collin Peterson (D-MN) and Ranking member Rep. Mike Conaway (R-TX); U.S. Dairy Export Council CEO Tom Vilsack, AFBF president Zippy Duvall, and National Association of Wheat Growers president Ben Scholz.
Listen to Rep. Peterson kick off the rally here:
Rep. Collin Peterson (D-MN) at USMCA Rally