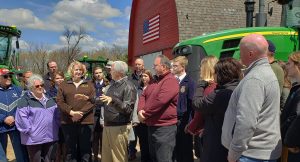 Vice President Mike Pence talked trade Thursday with Minnesota farmers and FFA leaders at R & J Johnson Farm near Glyndon.
"Farmers need the United States-Mexico-Canada Agreement (USMCA) done now. U.S. agriculture needs strong trade agreements to access 95% of the people in this world who live outside of the United States. Our number one and number two customers on most of our products are Canada and Mexico. Trade is critically important to our members," said Minnesota Farm Bureau President Kevin Paap.
Before speaking, Pence heard stories from farmers about how tough the economy is for them right now.
Listen here: VP Pence hears from MN farmers