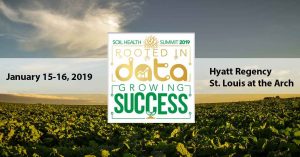 A Project to make agriculture more productive and sustainable through improved soil health.
The Soil Health Partnership is a farmer-led initiative that fosters transformation in agriculture through improved soil health, benefiting farmer profitability, a stable food supply, and the environment.
This virtual ag newsroom includes links to digital media content available free of charge for digital or print publication or broadcast.
Photos
2019 Soil Health Summit Photo Album
Interviews and Audio
5th Soil Health Summit Biggest Yet: Interview with Shefali Mehta, Executive Director, Soil Health Partnership
Soil Health Summit Award Winners press release
Seeds of Change Exceptional Educator award winner John Maxwell of Donahue, Iowa
SHS19 Interview with award winner John Maxwell, Iowa
Jon Doggett, National Corn Growers Association CEO
SHS19 Interview with NCGA CEO Jon Doggett
Kevin Skunes, ND farmer and National Corn Growers chairman
SHS19 Interview with NCGA Chairman Kevin Skunes, North Dakota
Kevin Ross, Iowa farmer and National Corn Growers First Vice President
SHS19 Interview with NCGA 1st VP Kevin Ross, Iowa
Wesley Spurlock, Texas corn farmer and former NCGA president
SHS19 Interview with Wes Spurlock, former NCGA president from Texas
Nathan Fields, National Corn Growers Association VP Production and Sustainability
SHS19 Interview with NCGA VP Production and Sustainability Nathan Fields
Sean Arians, Environmental Business Development Lead, Bayer
SHS19 Interview with Sean Arians, Bayer
Carrie Vollmer-Sanders, North America Nutrient Strategy Manager for The Nature Conservancy
SHS19 Interview with Carrie Vollmer-Sanders, The Nature Conservancy
Townsend Bailey, Director of Sustainability, McDonalds
SHS19 Interview with Townsend Bailey, McDonalds
Maria Bowman, lead scientist for the Soil Health Partnership
SHS19 Interview with Maria Bowman, Soil Health Partnership
Opening General Session – A New Year in Soil Health – Dr. Shefali Mehta, Dr. Maria Bowman
Opening General Session - 1
Opening General Session – Policy, Science and Soil Health – Carrie Vollmer-Sanders, The Nature Conservancy; Suzy Friedman, Environmental Defense Fund; Kr Lakisha Odom, Foundation for Food and Agriculture Research
Opening General Session - 2
Opening General Session – Consumers, Marketes and Soil Health – Sean Arians, Bayer Crop Science; Townsend Bailey, McDonald's, Ryan Sirolli, Cargill
Opening General Session - 3
Day 2 General Session – Farmers Blazing a Train in Soil Health – Wayne Hurst, National Wheat Foundation; Kevin Ross, National Corn Growers Association; Karen Scanlon, Innovation Center for U.S. Dairy
Day 2 General Session - 1
Day 2 General Session – Technology and Tools Shaping the Future of Soil Health – Ken Copenhaver, CropGrower, LLC; Dr. Nick Ward, Ward Laboratories, Inc.; Eric Lund, Veris Tecnologies
Day 2 General Session - 2
Day 2 General Session – Into the Future: the Soil Health Partnership – Dr. Shefali Mehta, Dr. Maria Bowman, Elyssa McFarland, Jack Cornell, Anne Dietz
Day 2 General Session - 3