Clariant, a world leader in specialty chemicals, and Eastman Chemical Company, a global advanced materials and specialty additives company, have announced an agreement for the distribution of a new solvent for the agriculture industry.
TamiSolve NxG was developed for the global plant protection sector, for use in plant growth regulators, biological control agents, herbicides, fungicides, and insecticides. Under this exclusive agreement, Clariant will globally market and sell TamiSolve NxG under Clariant's trade name, "Genagen™ NBP."
With this collaboration, Eastman and Clariant hope to utilize their strengths to bring more sustainable, efficient, and innovative solutions to farmers around the world.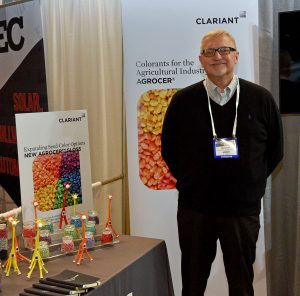 Clariant once again exhibited at the ASTA 2018 CSS and Seed Expo last week and we caught up with Mark Self, technical marketing segment manager for the company here in the United States. He was talking there about Agrocer, Clariant's brand for agricultural products, including colorants, polymers, dusting agents and anything related to seed coating.
"Clariant was started as a color company," said Self. "We're trying to take it to the next level by introducing new colorants into the portfolio and show people they can color to the brand, to differentiate, to show value-added…you can do that with seed coating."
Learn more in this interview from the seed expo – ASTACSS18 Interview with Mark Self, Clariant