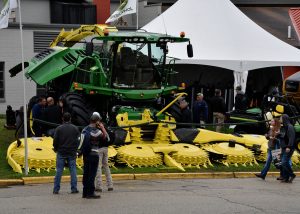 John Deere showcased its new 9000 Series Self-Propelled Forage Harvesters (SPFH) at the 2018 World Dairy Expo last week in Madison, Wisconsin.
The high-capacity forage harvesters announced in August provide up to 400 tons of throughput per hour, along with optimum corn silage processing that's independent of the length of cut.
This virtual ag newsroom includes links to photos and audio content available free of charge for digital or print publication or broadcast.
Photos
John Deere at 2018 World Dairy Expo Photo Album
Audio
New Deere Forage Harvesters are More Efficient
Presentation by Chris Borgman, John Deere
Interview with Chris Borgman, John Deere
Matt Hatcher, Territory Sales Manager – Presentation on Latest HarvestLab 3000
Presentation by Matt Hatcher, Territory Sales Manager John Deere
Matt Hatcher, Territory Sales Manager – Interview
Interview with Matt Hatcher, Territory Sales Manager John Deere
New Deere Forage Harvesters Help Maintain Quality –
Presentation by Tim Meister, Division Marketing Manager John Deere
Deere Showcases New Forage Harvesters at #WDE18 –
Interview with Deanna Kovar, John Deere
Dan Paschke, Director of Marketing – Hay & Forage –
Interview with Dan Paschke, John Deere
Jarrod McGinnis, Dairy & Livestock Production System Manager –
Interview with Jarrod McGinnis Territory Sales Manager John Deere
John Thomassen, Global Director – Hay & Forage Harvest –
Interview with John Thomassen, John Deere