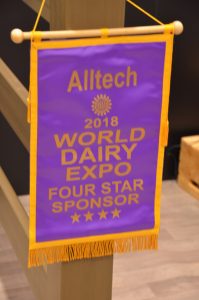 Serving as the meeting place of the global dairy industry, World Dairy Expo brings together the latest in dairy innovation and the best cattle in North America. Crowds of nearly 70,000 people, from 100 countries, were in Madison, Wisconsin for the 52nd annual event, October 2-6, 2018. The expo features the world's largest dairy-focused Trade Show, dairy and forage seminars, a world-class Dairy Cattle Show and more.
This newsroom features content about Alltech, Hubbard Feeds, and KEENAN at the expo.
This virtual ag newsroom includes links to photos and audio content available free of charge for digital or print publication or broadcast.
Photos
2018 World Dairy Expo Photo Album
Audio
2018 World Dairy Expo Explores Next Frontier –
Interview with Katie Schmitt, World Dairy Expo Communications
Trade Agreement Encourages Edge Dairy Cooperative –
Interview with John Holevoet, Edge Dairy Cooperative
Alltech-Hubbard features
Alltech Yeast Products Help Dairy Efficiency –
Interview with Kurt Peterson, Alltech
Alltech Trace Minerals Optimize Animal Health –
Interview with Brad Rortvedt, Alltech
Fighting Mycotoxins in the Field –
Interview with Brian Springer, Alltech
Busting Myths About Mycotoxins –
Interview with Pat Crowley, Alltech
Balanced Dairy Rations Improve Herd Nutrition –
Interview with John Pretz, Hubbard
KEENAN, InTouch Systems Provide Daily Information –
Interview with Dan Gard, KEENAN
Toasting Legacy of Pearse Lyons at #WDE18 –
Interview with Dan Weiland, Alltech
Hubbard's TRTM Program Having Positive Impact –
Interview with Angie Manthey, Hubbard Feeds
Opportunities Outweigh Challenges in Dairy Industry –
Interview with Jeff Harding, Hubbard Feeds
Alltech Helps Dairy Producers Retain Employees –
Interview with Alltech employee training specialist Jorge Delgado
Calf Health Vital to Farm Success –
Interview with Ellan Dufour, Hubbard
Technology Changing Life on the Dairy Farm –
Interview with Jeff Bewley, Alltech
On-Farm Audits Improve Dairy Profitability –
Interview with Jeff Johnson, Alltech