The soil analytics company completes third-party verification as simple, clear, trustworthy data provider
(New York, NY / September 10, 2018) Soil analytics company Teralytic has completed the Ag Data Transparent certification, affirming that their data use is private, secure, and transparent. Teralytic, which recently released the world's first wireless NPK sensor in their comprehensive soil probes, joins companies like John Deere, Farmers' Business Network, GROWMARK, Granular and more in bringing data transparency and consumer trust to the forefront.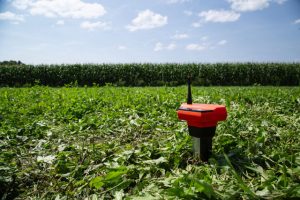 "The Teralytic platform collects data from the fields every single day for our farmers," says Steve Ridder, Founder and CEO of Teralytic. "We know that this information is incredibly valuable and sensitive, and we want to reassure our users that we offer complete transparency on how we collect, use, and share data. By completing this verification, we hope more farmers have the confidence to embrace precision ag technologies to increase yield and improve soil health."
To earn the seal, companies must complete the Ag Data Transparency Evaluator process, which is reviewed by an independent third-party administrator. These results can be viewed on the Ag Data Transparent website.
Ag Data Transparent certification allows companies that engage in and collect on-farm data to align to industry-wide principles to build trust with precision ag technology users. These core principles include: transparency in data collection, access, use, portability, availability, and retention. The non-profit Ag Data Transparency Evaluator, Inc.-formed by the American Farm Bureau Federation and other interested organizations and companies-audits each company's ag data contracts to ensure it is transparent, upfront, and simple.
"Teralytic's soil probes are a very promising new sensor technology for farmers and commercial growers," says Todd Janzen, Ag Data Transparent administrator. "Fortunately for these customers, Teralytic placed an equal commitment to data transparency by seeking to become certified Ag Data Transparent from day one."
For more information about Ag Data Transparent, click here. For more information about Teralytic, click here or contact Steve at info@teralytic.com.
###
About Teralytic
Teralytic is a soil analytics company that makes it easy for farmers to grow more using less, while reducing the environmental impact of agriculture. Teralytic's wireless probe contains 26 sensors to provide the most detailed soil quality data available, reporting soil moisture, salinity, and NPK at three different depths, as well as aeration, respiration, air temperature, light, and humidity. With no wires and an incredibly easy set-up, we provide customized recommendations and send real-time alerts to farmers' phones and desktops.
About Ag Data Transparent
Ag Data Transparent is a non-profit corporation backed by a consortium of farm industry groups, commodity organizations, and ag technology providers in order to bring transparency, simplicity, and trust into the contracts that govern precision agricultural technologies. An independent third-party administrator manages the voluntary process. Only approved companies may display the Ag Data Transparent seal.
Media Contact:
Emily Payne
Communications Manager
emily@teralytic.com