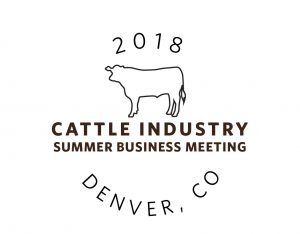 More than 600 cattle industry leaders will be attending the Cattle Industry Summer Business Meeting in Denver this week to help create direction for critical industry programs. The meeting is taking place Aug. 1-4.
The event includes meetings of cattlemen and women representing the National Cattlemen's Beef Association, Cattlemen's Beef Promotion and Research Board, American National CattleWomen and National Cattlemen's Foundation. Among the purposes of the yearly conference is to create a framework for checkoff and policy efforts on behalf of U.S. cattle producers for the upcoming fiscal year, which for NCBA and the Cattlemen's Beef Board begins Oct. 1.
You can find the full press release here.
This virtual ag newsroom includes links to photos and audio content available free of charge for digital or print publication or broadcast.
Photos
2018 Cattle Industry Summer Business Meeting Photo Album
Audio Interviews
Cattle Industry Summer Meeting Underway: Interview with Marvin Kokes, NCBA
Danielle Beck, NCBA Director of Government Affairs, discusses fake meat issues –
Interview with Danielle Beck, NCBA
Allison Rivera, NCBA Executive Director of Government Affairs, discusses policy priorities –
Interview with Allison Rivera, NCBA
NCBA president Kevin Kester of California talks about top industry concerns –
Interview with Kevin Kester, NCBA president
Kent Backus, NCBA Director of International Trade –
Interview with Kent Backus, NCBA
Marvin Kokes, NCBA Senior Vice President of Corporate Relations and Events – 2019 Convention Preview
Interview with Marvin Kokes, NCBA
NCBA Wraps Up Summer Business Meeting in Denver – Interview with Kendal Frazier, NCBA
Beltway Beef Podcast: John Robinson, NCBA Vice President, Membership and Communications – Summer Meeting, Membership, 2019 Convention
News Releases
Hawaii Ranch Honored for Outstanding Environmental Stewardship
New York Farm Honored for Outstanding Environmental Stewardship
Texas Ranch Honored for Outstanding Environmental Stewardship
Montana Ranch Honored for Outstanding Environmental Stewardship
South Dakota Feedlot Honored for Outstanding Environmental Stewardship
Minnesota Farm Honored for Outstanding Environmental Stewardship