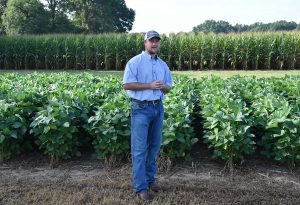 The Milan No-Till Crop Production Field Day is one of the most far-ranging agricultural field days in the nation. This year's event started out with cool weather and a good crowd.
Tours cover topics as diverse as row crop sustainability, beef cattle production, natural resource management and precision agriculture. A total of 16 tours are on the agenda.
"Although we've diversified the field day program over the years, our goal remains the same as the first No-Till Field Day — to provide farmers with in-depth information that will help them maximize productivity and exercise stewardship," says Dr. Blake Brown, director of the UT AgResearch and Education Center at Milan.
Tours focus on issues like cover crops, nutrient and soil management and no-till production of corn, cotton and soybeans. Visitors can see crop variety demonstrations, discuss precision agriculture technology with a farmer-led panel, and even help the community by taking a few minutes to assemble meals for local food banks at the "Farmers vs. Hunger" tour.
Photos
2018 Milan No-Till Field Day Photo Album
Interviews
Stoneville Varieties at Milan No-Till Field Day: Interview with Dr. Brown
Resistant Pests Wreaking Havoc in Cotton Crop: Interview with Dr. Lorenz
Stoneville Varieties at Milan No-Till Field Day: Interview with Lucas Owen
Credenz Presentation at Milan No-Till Field Day:Milan Field Day Credenz Presentation
Video