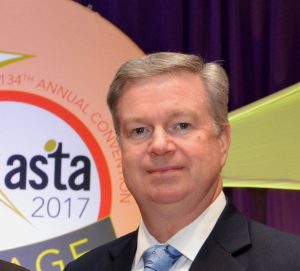 The American Seed Trade Association (ASTA) is pleased to announce its 2018-19 officer team, officially elected during the ASTA Policy & Leadership Development Conference in Washington, D.C.
The members of the 2018-19 ASTA officer team are:
• Chair – Jerry Flint, Corteva Agriscience™
• First Vice Chair – Wayne Gale, Stokes Seeds
• Second Vice Chair — John Latham, Latham Hi-Tech Seeds
Newly-elected Regional Vice Presidents are: Rick Falconer, Rijk Zwaan (Western Region Vice President), and John Romines, WinField Solutions (North Central Vice President).
Incoming Chair Jerry Flint leads Global Initiatives and Sustainability for Corteva Agriscience™, Agriculture Division of DowDuPont. Throughout his 25-plus year career, Dr. Flint has served on several committees and held leadership roles to support and promote the seed and crop protection industry.
Learn more about Dr. Flint in this USFRA podcast: SMART Farmer Podcast with Jerry Flint