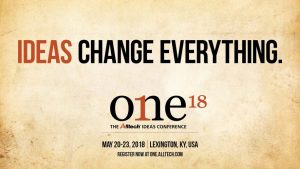 The transformative power of ideas is the focus of ONE: The Alltech Ideas Conference 2018, May 20–22, in Lexington, Kentucky.
The program includes former vice chair of General Electric Beth Comstock, USDA Under Secretary Bill Northey and groundbreaking neurologist Dr. Majid Fotuhi. Four thousand attendees from more than 70 countries are expected to attend this year's 34th annual conference.
This virtual ag newsroom includes links to photos and audio content available free of charge for digital or print publication or broadcast.
Photos
ONE: Alltech Ideas Conference Photo Album
Audio
A Preview of ONE 18 – The Alltech Ideas Conference – Dr. Mark Lyons, Alltech President
Alltech ONE 18 – the Disruption Continues – Aidan Connolly, Alltech Vice President
Molly Malone Sing-A-Long Remembering Dr. Pearse Lyons – Molly Malone Sing-A-Long
USDA's Northey Kicks Off Alltech ONE18 –
USDA Under Secretary Bill Northey, ONE18, Stage Remarks Interview with USDA Under Secretary Bill Northey, ONE18
Bytes: The Tech That Feeds Us – Robert Walker, CEO, KEENAN, an Alltech Company
China's Impact on U.S. Beef Demand – Ian Lahiffe, Allflex Livestock Intelligence
Poultry Researchers Tackle Woody Breast Syndrome – Dr. Rebecca Delles, Research Scientist, Alltech
Earning Consumer Trust in Food Production – Crystal Mackay, President, Canadian Centre for Food Integrity
Emerging Technologies: From the Feed to the Cloud – Art Frio, Independent Pig Production and Nutrition Consultant
First-Rate Fillets: Consistent Quality for Premium Products – Dr. Philip Lyons, Coppens International
The Pearse Lyons Accelerators
eggXYt – Yehuda Elram, eggXYt
Vence – Frank Wooten, Vence
SmartBow – Wolfgang Auer, SmartBow
EntoCycle – James Millar, EntoCycle
truly – Nikki Putnam, truly, an Alltech Brand
adentro – Rebecca Noble, adentro, an Alltech Brand
PenPoint – Brian Lawless, PenPoint, an Alltech Brand
SMART dairy – Stuart McGregor, SMART dairy, an Alltech Brand
Alltech Young Scientists
Graduate – Saheed Ayodeji Salami, University of Catania
Undergraduate – Leesa-Joy Flanagan, University of Adelaide
Impact Award – Moises Poli, Universidade Federal de Santa Catarina