In this episode of the SMART Farmer podcast, we hear from America's Pig Farmer of the Year, Leon Sheets, who raises 33,000 pigs a year in northeast Iowa along with his wife and son. SMART Farmer podcast listeners may remember that we interviewed last year's Pig Farmer of the Year Brad Greenway from South Dakota, who also serves as chairman of the U.S. Farmers and Ranchers Alliance (USFRA).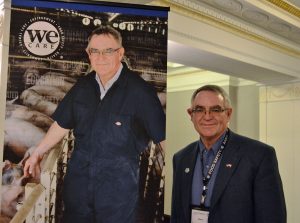 The annual award is sponsored by the National Pork Board and recognizes a pig farmer who excels at raising pigs with an emphasis on animal care and environmental sustainability. Leon was actually the first runner-up last year when Leslie McCuiston was selected for the title, but she had to step down after taking a new position in the ag industry where she does not directly work with pigs, which is obviously the main requirement for Pig Farmer of the Year! But Leon has enthusiastically stepped up to fill the role and you can hear that enthusiasm in this podcast, which was recorded at the recent National Pork Forum.
Download or listen to this podcast here: SMART Farmer Leon Sheets
If you have not yet subscribed to the SMART Farmer podcast and this is brand new to you, you can do it today and binge listen to all 24 podcasts produced to date. Also, SMART Farmer is now on TuneIn.
Subscribe to the SMART Farmer podcast