The 2018 Commodity Classic is known as the largest farmer-led, farmer-focused convention and trade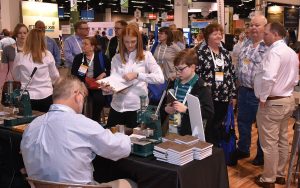 show. This year Anaheim, CA took the honors of hosting the event held Feb. 27 – March 1, 2018. Farm Credit attended and was able to host a learning session focusing on the future of rural America.
This virtual ag newsroom includes links to photos and audio content available free of charge for digital or print publication or broadcast.
Photos
2018 Farm Credit at Commodity Classic
Audio
Farm Credit Learning Session: Farm Credit Learning Session
Farmers Slightly Optimistic About 2018: Interview with Tom Sloma, Farm Credit
Farm Credit: 'Know Your Input Costs': Interview with Chris Coffey, Farm Credit
Video: