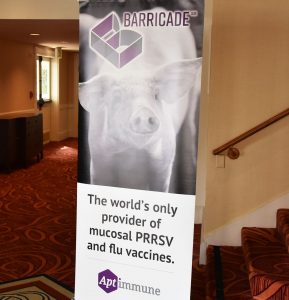 Prior to the annual American Association of Swine Veterinarians annual meeting Aptimmune hosts a scientific symposium to not only update on products but also provide presentations on current research projects. In 2018 this takes place in San Diego, CA.
The focus of this year's symposium is to provide updates on Aptimmune's Barricade product which was launched a year ago. Now there are many in the field trials that have been conducted or are in progress. Presenters and company representatives are providing information on that research and the results they are seeing.
This virtual ag newsroom includes links to photos and audio content available free of charge for digital or print publication or broadcast.
Photos:
2018 Aptimmune Scientific Symposium Photo Album
Audio Interviews:
Aptimmune Shares Vaccine Success: Interview with Aaron Gilbertie, CEO, Aptimmune
Interview with Dr. Jianqiang Zhang, Veterinary Diagnostic Lab, Iowa State University
2018 Aptimmune Scientific Symposium - Panel Roundtable
Interview with Dr. Bob Nordgren, Aptimmune
Interview with Dr. Brigitte Mason, Country View Family Farms
Interview with Dr. Chris Sievers, Swine Vet Center
Interview with Dr. Natalie Baker, Legacy Veterinary Clinic
Interview with Dr. Andy Kryzer, Fairmont Veterinary Clinic
Interview with Steve Berger, Development/Manufacturing Director, Aptimmune
Aptimmune Shares Barricade Vaccine Field Data – Interview with Dr. Jessica Seate, Professional Services Veterinarian, Aptimmune