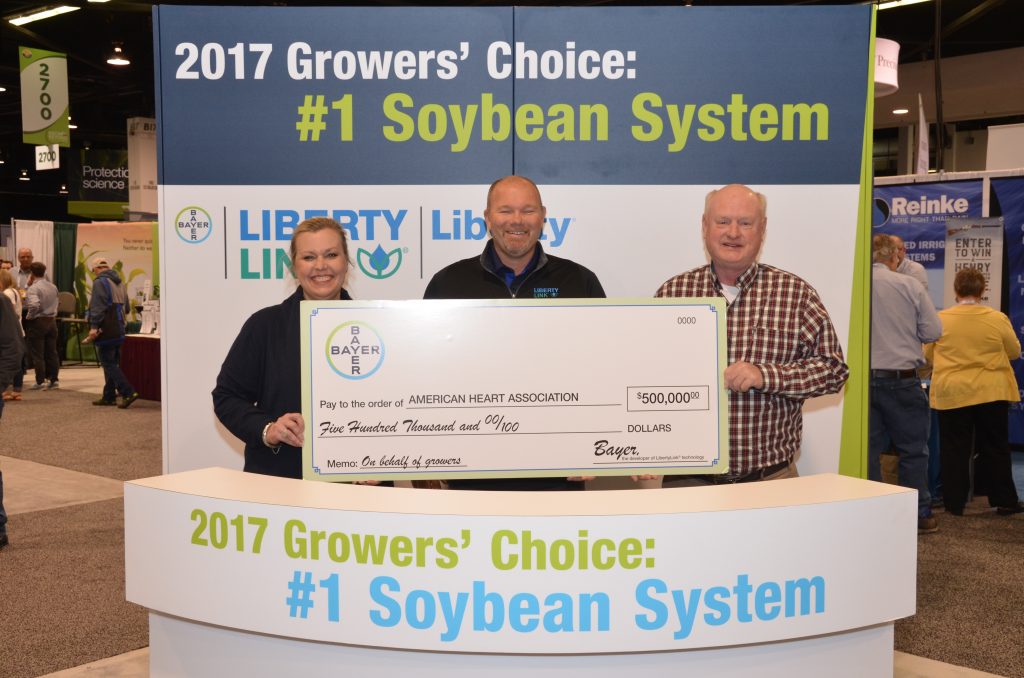 Welcome to the virtual newsroom for the 2018 Bayer AgVocacy Forum as well as activities during Commodity Classic, in Anaheim, California. The Forum has been held for more than a decade and started with the goal of stimulating thoughtful discussion about the food and agriculture industry. This year's program includes a new segment on AgTech Talks.
From both the AgVocacy Forum and Commodity Classic you will find photos, session audio, interviews (both audio and video) which we hope will be helpful to you and your publication efforts.
This virtual ag newsroom includes links to photos and audio content available free of charge for digital or print publication or broadcast.
Photos:
2018 Bayer AgVocacy Forum Photo Album
2018 Commodity Classic Photo Album
AgVocacy Audio:
Sustaining Ag's Future: Remarks from Adrian Percy, Global Head R&D, Bayer CropScience
Restoring Consumer Trust & Future Trends: Interview with Adrian Percy, Global Head R&D, Bayer CropScience
Digitalization, Forward Farming & Regulatory System: Interview with Rob Schrick, Business Lead, Broad Acre Crops, Bayer CropScience
Q&A on Restoring Consumer Trust: Remarks from Adrian & Rob, Bayer CropScience
Outlook for Agriculture: 2018 Farm Bill & Need to AgVocate: Remarks from Jayson Lusk, Purdue University
Farm Economist On Future of Ag: Interview with Jayson Lusk, Purdue University
AgTech Talk – Drone to Table: Digital Farming and the Future of Sustainability: Interview with Greg Crutsinger, Scholar Farms
AgTech Talk – Harnessing the Potential of Soil: Remarks from Brynne Stanton, Ginkgo Bioworks
Unlikely Agents of Change in the Food Space: A New Marketplace Panel
Grower Panel Discuss Perspectives on Future of Food & Ag: Grower Perspectives Panel
Grower Perspectives Interview: Interview with Ray Gaesser, Gaesser Farms
Media Comments on Why They Attend: Interview with Media Attendees
Graphic Facilitator for Poster Visualizing "How do you AgVocate?": Interview with Bree Sanchez
Panel Discussion with Young Agriculturalists: Next Generation of Ag Panel
Bayer Product Audio:
Bayer & SCN Coalition Work to Combat Soybean Cyst Nematodes: Interview on Bayer/SCN Coalition
Delaro Fungicide Shows Yield Advantage in Corn, Soybeans: Growers Talk Yield Advantage in Corn, Soybeans Using Delaro Fungicide
Bayer, Growers Pleased with Delaro Trials: Interview with Thorsten Schwindt, Bayer & Todd Golly, Minn. Grower
Why Growers Chooses Liberty Link: Interview with Mark Tuttle, Illinois Grower
Liberty & LibertyLink Donation to AHA: Interview with Jody Wynia & David Tanner, Bayer
ILeVO Combats Soybean Cyst Nematodes: Interview with Melissa Chu, Bayer CropScience
Early Season Protection with ILeVO: Interview with Jeremiah Mullock, Bayer
The Science Behind the New Seed Treatment Poncho/VOTiVO 2.0: Interview with Jennifer Riggs, Bayer CropScience
Poncho/VOTiVO 2.0 and Soil Health: Interview with Jennifer Riggs, Bayer
Greater Nutrient Uptake with Poncho Votivo 2.0: Interview with Greg Ginisty, Bayer
Tailored Cerdenz Soybean Varieties: Interview with Monty Malone, Bayer, Credenz varieties
Credenz Soybeans Building on Strong History – Interview with Monty Malone, Bayer - Credenz History
Video: