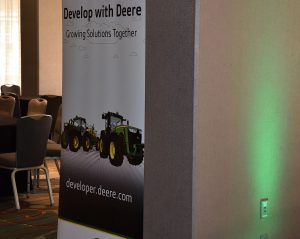 The Develop with Deere conference, Growing Solutions Together, is taking place much earlier this year in Kansas City, MO.
It looks like a big crowd and John Deere has invited in dealers from across the country this year as well as several other countries. In addition to dealers there are representatives from many companies that are working on integrations with John Deere and especially into the John Deere Operations Center. We like to think of this as an AgNerds Paradise.
All media content is available to ag media, free of charge and rights fee.
Photos:
2018 Develop with Deere Conference Photo Album
Audio:
2018 #DevelopWithDeere Conference – Preview Interview with Randy Kasparbauer, John Deere
Deere Gen 4 Displays Compatible With Ag Leader SMS™ – Interview with Deanna Kovar, John Deere
Large and Small Companies Collaborate for Grower Success – Interview with Liron Brish, Farm Dog
More Dealers Attend Develop with Deere Conference – Interview with Kevin Krieg, John Deere
New Boundary Technologies Offers Integrated Application – Interview with Kim Pearson, New Boundary
Farmers Mutual Hail Turning Data Into Usable Information – Interview with David DeCapp, Farmers Mutual Hail
Dealer and Software Developer: Interview with Jeff Buyck, C&B Operations
The John Deere API Evangelist at #DevelopWithDeere – The John Deere API Evangelist: Interview with Josh Carson, John Deere
Dealer and Software Developer: Interview with Ryan Hutchison, South Country Equipment
Agronomist for Company: Interview with Kendall Gee, South Country Equipment
Software Company and Award Winner: Interview with Stu Pocknee, Precision Terrain Solutions
TapLogic Provides 'Ease and Control' in Soil Sampling – Interview with Cyrus Alexander, TapLogic
John Deere Dealers See Value for Customers – Interview with Tom Rosztozy, Storz Equipment
Dealers Seek Solutions for Growers at Develop with Deere – Interview with Brad Silva, John Deere
Value of API Connections: Interview with Randy Kasparbauer, John Deere