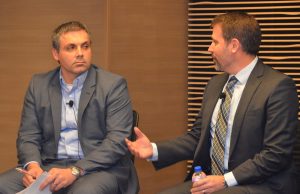 DuPont and Sumitomo Chemical Company, Limited announced a global agreement to collaborate on the development, registration and commercialization of seed-applied technologies for use in key crops around the world.
DuPont and Sumitomo Chemical formed this collaboration out of a shared objective to accelerate development and commercialization of novel seed-applied technologies to improve early plant growth and yields. The global agreement leverages the strengths of both companies, combining the conventional chemical and biological pipeline from Sumitomo Chemical, with the advanced seed technology and development and commercialization capability of DuPont Crop Protection, a business unit of DowDuPont Agriculture Division.
Collaborations between DuPont and Sumitomo Chemical's regional affiliate, Valent U.S.A. LLC., will focus on the North American region with potential expansion opportunities to multiple crop markets globally.
During the American Seed Trade Association's (ASTA) CSS & Seed Expo a press conference was held where Meg Brodman, Valent; Trey Soud, marketing director, row crops, Valent; and Mick Messman, director, DuPont Seed Applied Technologies spoke on the announcement.
Listen here: Dupont/Sumitomo Press Conference