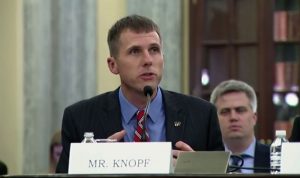 "Technology in Agriculture: Data-Driven Farming" was the topic of a hearing last week before the Senate Commerce Subcommittee on Consumer Protection, Product Safety, Insurance, & Data Security to examine the potential benefits of advancements in agricultural technology and the collection and utilization of data in farming.
The only farmer to testify was Justin Knopf from Gypsum, Kansas, who talked about the value of data for farmers and how it is helping American farmers face the challenge of feeding a growing population. "Data collection, data processing, and utilization of data for improved decision making has become a core competency for many, if not a majority of, farmers," said Knopf.
Under questioning from Sen. Deb Fischer (R-NE), Knopf also talked about the challenge of data management and the vital need for rural broadband access.
Listen here: KS farmer Justin Knopf at ag technology hearing