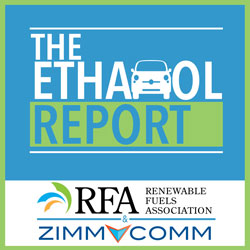 With the deadline this week to comment on EPA's recent Notice of Data Availability that would further lower biofuels volume levels under the Renewable Fuel Standard (RFS), industry supporters have been putting pressure on the agency to uphold President Trump's campaign promises.
In this edition of the Ethanol Report podcast, Renewable Fuels Association (RFA) president and CEO Bob Dinneen discusses how industry supporters have responded to recent EPA actions, talks about a new report on RINS and retail fuel prices, and provides RFA's comments on the EPA notice: Ethanol Report on EPA pressure
Editors Note:
In a letter to seven senators sent late Thursday, EPA Administrator Scott Pruitt committed to final 2018 Renewable Fuel Standard renewable volume obligations at levels equal or greater to those that the agency proposed in July, as well as a commitment to finalize the rule by the Nov. 30 statutory deadline. In the letter, Pruitt also announced EPA will finalize a decision within the next 30 days to deny a change to the point of obligation for compliance with the RFS, the agency will "actively explore" whether it has the legal authority to approve year-round access to E15 and the agency will not take action on a rumored proposal to allow ethanol exports to count towards RFS compliance.