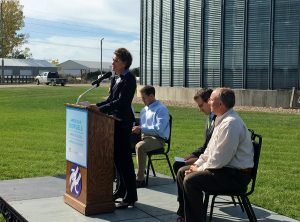 Iowa Governor Kim Reynolds held a press conference with biofuels industry leaders in Pella, Iowa Wednesday to talk about the importance of maintaining growth in the Renewable Fuel Standard
The Governor questioned recent EPA proposals that would cut volume levels under the RFS for biodiesel, cellulosic ethanol, and advanced biofuels, and possibly allow ethanol exports to generate RINs for RFS compliance.
Governor Reynolds discussed calls she received Wednesday morning from President Donald Trump and EPA Administrator Scott Pruitt to assure her that they continue to support the industry and the RFS.
The press conference at Two Rivers Cooperative in Pella on Wednesday also included comments from Iowa Lieutenant Governor Adam Gregg, Iowa Renewable Fuels Association Executive Director Monte Shaw, Iowa Biodiesel Board Executive Director Grant Kimberley, and Dennis Bogaards, an Iowa soybean and corn farmer in the Pella community.
Listen to it here: Iowa RFS press conference