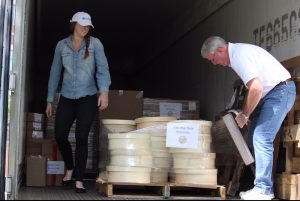 Driven by online conversations shortly after Hurricane Harvey, The Wisconsin Milk Marketing Board (WMMB) coordinated a state-wide effort with Wisconsin cheesemakers to send almost 20,000 pounds of cheese to Houston to provide nutritious food for those affected by Hurricane Harvey.
On Friday, September 1, WMMB employees, cheese company employees and dairy farmers, packed a delivery truck in Madison with over 17,000 pounds of smoked string cheese, cheese curds, muenster, parmesan, classic cheddar and more. The shipment also included 300 pounds of butter.
In this interview Suzanne Fanning, WMMB vice president of marketing communications, and Social Media Specialist Lizzy Schultz talk about how Dairy Farm Families of Wisconsin and the cheesemakers came together to help.
Audio file: Interview with Suzanne Fanning & Lizzy Schultz, WMMB