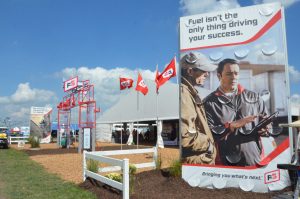 GROWMARK and the FS System are the official agronomy and fuel suppliers for the Farm Progress Show every year, providing the inputs to grow the crops for the field demonstrations and fueling all of the vehicles and machinery on site with Dieselex Gold.
This year the cooperative also helped celebrate the success of Illinois' Nutrient Loss Reduction strategy and were visited by Iowa Ag Secretary and new USDA undersecretary nominee Bill Northey at the exhibit.
This virtual newsroom includes links to photos and audio content available free of charge for digital or print publication or broadcast.
GROWMARK FS at #FPS17 Photo Album
GROWMARK audio:
GROWMARK Leading in Nutrient Loss Reduction –
Interview with GROWMARK chairman/president John Reifsteck
Interview with IA Ag Secretary Bill Northey
GROWMARK Update on 4R4U Program –
Interview with GROWMARK director Jack McCormick, Randolph County Illinois
GROWMARK is official fuel provider for Farm Progress Show –
Interview with Gerald Doty, GROWMARK fueling station
GROWMARK Legislative update –
Interview with Chuck Spencer, GROWMARK
GROWMARK nutrient stewardship update –
Interview with Ryan Hasty, South Central FS