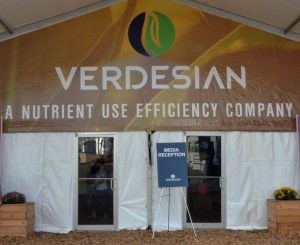 At the 2017 Farm Progress Show, Verdesian Life Sciences introduced FlexConnect™, the first closed transfer system for soybean inoculants.
Combined with a mixing port, FlexConnect enables applicators to handle and mix inoculants of any volume straight from the packaging, without transferring to a separate tank. This saves applicators time and money by minimizing the waste normally associated with inoculant mixing.
This virtual newsroom includes links to photos, audio, and video from the event. All content posted here is available free of charge for digital or print publication or broadcast.

Verdesian FlexConnect Launch photo album
Verdesian Life Sciences Audio:
FlexConnect Introduction Interview with Jim Pullins, Verdesian
FlexConnect Beta Tester Interview with Roger Dyson, North Central Coop