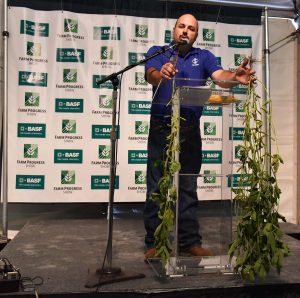 During the 2017 Farm Progress Show StollerUSA held a press conference to introduce new Fortified Stimulate Yield Enhancer Plus. Presenting was Robb Jerek, Stoller Market Development Agronomist.

Fortified Stimulate® Yield Enhancer Plus contains a proprietary blend of bio-identical growth regulating hormones that enable optimal yield production. The optimized and stable, patent-pending formulation allows the active ingredients to remain effective, promoting vigorous plant growth. Fortified Stimulate Yield Enhancer Plus has the optimal concentrations of cytokinin (CK), gibberellin (GA), and two auxins (IAA and IBA) formulated in the ideal ratio of 2:1:1 which adapts through time: initially CK, GA, IAA for triggering plant growth, then: CK, GA, IBA for developing better yield characteristics.

In addition to the press conference, media were invited to the uniquely innovative Ehler Brothers Company – a seed and ag retail farm facility near the Farm Progress Show site. There they received a presentation on how the Ehler Brothers Company uses early planting strategies to push the soybean yield envelope toward 100-plus bushel yields. International Stoller researchers, scientists, and business leaders were also in attendance. Kris Ehler was the presenter.
In Stoller booth we visited with Perry Galloway, farmer from east central Arkansas who farms corn, soybeans, wheat and rice. We have an interview with him, talking about his use of Stoller products.
This virtual newsroom includes links to photos, audio, and video from the conference. All content posted here is available free of charge for digital or print publication or broadcast. Credit may be given to AgNewsWire.
Photos from the press conference, Stoller booth and Ehler Brothers Farm: Stoller at 2017 Farm Progress Show Photo Album
Audio:
Robb Jerek Press Conference Presentation: Stoller Press Conference
Interview with Robb Jerek: Interview with Robb Jerek
Kris Ehler Farm Presentation: Ehler Farm Presentation
Interview with Kris Ehler: Interview with Kris Ehler
Interview with Perry Galloway: Interview with Perry Galloway
Video:
Kris Ehler's presentation joined in progress: