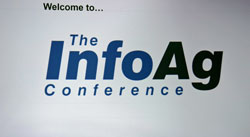 Welcome to the virtual newsroom for the 2017 InfoAg Conference held July 25-27 in St. Louis, sponsored by John Deere.
Since 1994, the InfoAg Conference has been the premier event for discussion and advancement of precision agriculture. This event draws interest from domestic and international agriculture professionals and features a wide range of educational and networking opportunities for professionals interested in learning more about precision agriculture techniques.
This virtual newsroom includes links to photos, audio, and video from the conference. All content posted here is available free of charge for digital or print publication or broadcast. Credit may be given to AgNewsWire.
Photos:
2017 InfoAg Conference Photo Album
Audio files:
Beyond Big Data at #InfoAg2017 –
Interview with Steve Sonka, InfoAg Keynote Speaker
Four Honored with PrecisionAg Awards –
Interview with Dr. Harold van Es, Award Winner Interview with Wade Barnes, Award Winner Interview with Dr. Joe Luck, Award Winner Interview with Dr. Paul Fixen, Award Winner
CropTrak Plays Well With Others –
Interview with Jonathan Sherrill, CropTrak
John Deere Works for Ag Retailers –
Interview with Chip Donahue and Randy Kasperbauer, John Deere
AgGateway's ADAPT Nears Completion –
Interview with Brent Kemp and Mark Telford, AgGateway
Precision Ag is John Deere Connected –
Interview with Stu Pocknee, Precision Terrain Solutions
Interview with Phil Draude, EFC Systems
IntelinAir Debutes at #InfoAg17 –
Interview with Al Eisaian, IntelinAir
Drone Nerds Show Off at InfoAg –
Interview with Brian Grant, Drone Nerds
Premier Crop Systems Receives Capital Investment –
Interview with Dan Frieberg, Premier Crop Systems
Another Successful InfoAg –
Interview with Quentin Rund, InfoAg Conference
Airbus Provides Satellite Imagery for Solutions –
Interview with Sky Rubin, Airbus
Video
Facebook Live from Deere at #InfoAg17 –

Facebook Live with CropTrak at #InfoAg –