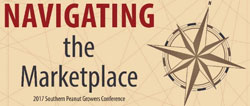 The theme for the 19th annual Southern Peanut Growers Conference was Navigating the Marketplace and farmers from Alabama, Florida, Georgia and Mississippi once again met together on Florida's Emerald Coast to learn and network.
The three-day event provides farmers with information about peanut production, legislative issues, marketing and promotions and includes members of the Alabama Peanut Producers Association, the Florida Peanut Producers Association, the Georgia Peanut Commission, and the Mississippi Peanut Growers Association.
Reps. Mike Rogers (R-AL) and Austin Scott (R-GA) attended the event to talk to peanut producers about the 2018 farm bill.
This virtual newsroom includes links to photos, audio, and video from the conference. All content posted here is available free of charge for digital or print publication or broadcast. Credit may be given to AgNewsWire.
Southern Peanut Growers Conference Photo Album
Check out the SPGC Blog for full coverage
Peanut Growers Navigating the Marketplace –
Interview with Ken Barton, Florida Peanut Producers
National Peanut Board Honored –
Interview with Bob Parker, National Peanut Board
Reps. Rogers and Scott at 2017 SPGC –
Reps. Mike Rogers (R-AL) and Austin Scott (R-GA address southern peanut farmers
Interview with Reps. Rogers and Scott
Updates on Alabama and Mississippi Peanuts –
Interview with Caleb Bristow, Alabama Peanut Producers
Interview with Malcolm Broome, Mississippi Peanut Growers
Valent Valor Fights for Peanuts –
Interview with John Altom, Valent
Setting Peanut Priorities for the Farm Bill –
Interview with Bob Redding, The Redding Firm Georgia Farmers Have Friend at USDA –
Interview with Don Koehler, GA Peanut Commission
Opening Night Nut Show –
Interview with John Hand, Bayer
Additional audio links:
Interview with Dr. Marshall Lamb, National Peanut Research Lab
Interview with Curry Parker, Alabama peanut grower
Interview with Rees Bridges, Informed Ag
Interview with Alexis Benge, UPI Agricultural Products
Interview with Travis Kelly, Vantage Southeast