A number of agricultural organizations provided their input to the Office of the U.S. Trade Representative (USTR) this week regarding the upcoming negotiations to update the North American Free Trade Agreement (NAFTA).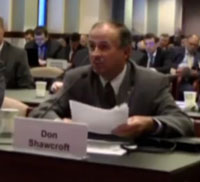 "NAFTA has been overwhelmingly beneficial for the vast majority of farmers and ranchers across the U.S. for decades," said Colorado Farm Bureau President Don Shawcroft in comments on behalf of the American Farm Bureau Federation.
"Free trade has benefited American farmers, and NAFTA has been extremely valuable to our industry," National Corn Growers Association First Vice President Kevin Skunes of North Dakota testified.
Others who testified included: Chandler Goule, CEO, National Association of Wheat Growers;;Ben Connor, Director of Policy, U.S. Wheat Associates; Randy Gordon, President, National Grain and Feed Association; and Chip Councell, U.S. Grains Council.
Listen or download here: NAFTA hearing testimony panel 4