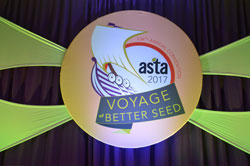 The 134th annual meeting of the American Seed Trade Association was held June 21-24 in Minneapolis, MN with the theme "Voyage of Better Seed."
Founded in 1883, the American Seed Trade Association (ASTA) is one of the oldest trade organizations in the United States with a membership of over 700 companies involved in seed production and distribution, plant breeding, and related industries in North America.
This virtual newsroom includes links to photos, audio, and video from the conference. All content posted here is available free of charge for digital or print publication or broadcast. Credit can be given to AgNewsWire.
2017 ASTA Annual Meeting Flickr album
Audio files:
ASTA Annual Conference in Full Swing –
Interview with Andy LaVigne, ASTA
Joe Funk Earns ASTA Distinguished Service Award –
ASTA Distinguished Service Award winner Joe Funk
Panel Offers Food Company Perspectives –
Remarks by John Wiebold, General Mills

Remarks by Jenny Verner, Cargill, Inc.

Remarks by Autumn Price, Land O'Lakes
Herrmann Concludes Year as ASTA Chair –
Interview with ASTA Chair Mark Herrmann, AgReliant Genetics
Learning Innovation from the Seed at #ASTAannual –
Interview with Stan Abramson, Arent Fox
Seeds in Space Benefit Ag on Earth –
Interview with Debbie Wells and Samantha Thorstensen, CASIS
ASTA Elects New Leadership –
Interview with New ASTA Chair Tracy Tally, Justin Seed Co.
ASTA Preparing Farm Bill Input –
Interview with Jane DeMarchi and Virginia Houston, ASTA
Clariant Colors the Seed Industry Bright –
Interview with Eric Wrice, Clariant