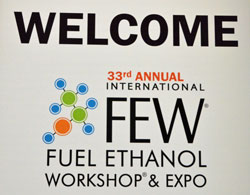 The Fuel Ethanol Workshop and Expo, produced by BBI International, is the largest, longest-running ethanol conference in the world featuring timely presentations and a full trade show of industry companies and organizations.
The 33rd annual meeting was held June 19-21 in Minneapolis, MN.
This virtual newsroom includes links to photos, audio, and video from the conference. All content posted here is available free of charge for digital or print publication or broadcast. Credit can be given to AgNewsWire.
2017 Fuel Ethanol Workshop Photos
RFA CEO Revs Up Ethanol Producers at #FEW17 –
RFA CEO Bob Dinneen keynote at #FEW17
RFA's Cooper Gets High Octane Award –
Interview with Geoff Cooper, RFA
Enogen and Cellerate Making Ethanol Better –
Interview with Ron Wulfkuhle, Enogen
E15 Bill Faces Uphill Battle in Senate –
Interview with Brian Jennings, ACE