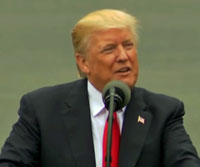 Farmers were among those who joined President Trump last week in Cincinnati to highlight the economic importance of the inland waterways system and the need to invest in upgrades to the locks and dams.
"Roughly 60 percent of the United States grain exports travel down these waterways to the Gulf," said Trump in his remarks.
President Trump's infrastructure plan also includes a $200 billion investment in rural infrastructure.
Listen to Trump's remarks here: Pres. Trump infrastructure remarks