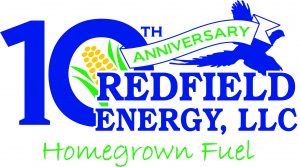 Redfield Energy in South Dakota is celebrating ten years of ethanol production this week.
According to Chief Administrative Officer Dana Siefkes-Lewis, over the past decade Redfield Energy has purchased over 194 million bushels of local corn and produced 545 million gallons of ethanol, 1.5 million tons of distillers grains and 63 million pounds of corn oil.
The 10 year celebration will include remarks from the top leadership of the national ethanol organizations – Brian Jennings with the American Coalition for Ethanol, Emily Skor of Growth Energy and Renewable Fuels Association CEO Bob Dinneen – since Redfield is an active member of all three.
Lewis talks about the 10 year anniversary in this interview: Interview with Dana Siefkes-Lewis, Redfield Energy