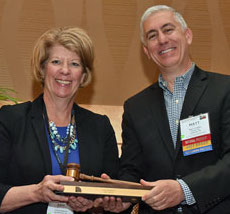 The 2017 AgriMarketing Conference held last week in Dallas, Texas is the annual meeting for the National Agri-Marketing Association (NAMA).
The conference also marked the changing of the guard for NAMA  as a new president took over leadership of the organization, so the team sat down with outgoing president Matt Coniglio of Penton Agriculture/Farm Progress and incoming president Amy Bradford of GROWMARK.
Listen to interviews with both here: ZimmCast with Matt Coniglio and Amy Bradford, outgoing and incoming NAMA presidents
2017 Agri-Marketing Conference Photo Album
Subscribe to the ZimmCast podcast here. Use this url in iTunes or your favorite news reader program/app.