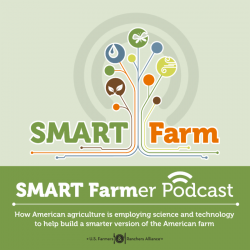 Consumers like technology. The smart phone, the smart home and the smart classroom all encompass innovation and technology that helps improve people's lives. Similarly, with agriculture continually evolving resembling every other forward-thinking industry, today's SMART Farm utilizes technology to be more sustainable and efficient.
To share personal stories about ways farmers and ranchers are using technology, U.S. Farmers & Ranchers Alliance (USFRA) partnered with ZimmComm New Media to bridge the conversation between urban and rural Americans through the SMART Farmer Podcast. From crop and livestock to conventional and organic, spanning all sizes, this podcast features farmers, ranchers and industry leaders. The SMART Farmer Podcast explores what technologies enhance environmental sustainability, the misconceptions associated with GMOs, antibiotics, pesticides and animal welfare, and how agriculture strives to continually improve.
"USFRA research shows technology in agriculture is perceived positively by consumers and food influencers, with about half who associate it to increased yields and improved efficiency," said Randy Krotz, USFRA Chief Executive Officer. "Our SMART Farm platform is an opportunity to capitalize on the positive support for technology on today's farms and ranches showing how it benefits the consumer and our planet."

The SMART Farmer Podcast with interviews including National Corn Growers Association (NCGA) Chairman and USFRA Vice Chairman Chip Bowling, American Sugarbeet Growers Association (ASGA) President and USFRA Board Member Galen Lee and USFRA Face of Farming & Ranching Lauren Schwab, among others, will be featured at booth 214-216 at the NAMA Agri-Marketing Conference Connection Point Trade Show on April 26-28 in Dallas, Texas. ZimmComm will be offering podcast informational sessions while USFRA will be providing demos of its new 360-degree pig videos, which utilize a virtual reality (VR)-style headset to give consumers a one-of-a kind experience inside a modern pig farm.
"Podcasting has been around for over a decade but it has really exploded in popularity recently, especially among millennials, as more people are creating their own personalized programming on their smart phones and tablets," said ZimmComm President Chuck Zimmerman. "The SMART Farmer podcast has a broad potential audience reach."
Subscribe to the SMART Farmer podcast or listen on iTunes. Media are welcome to use the podcast or portions of it in their programming.