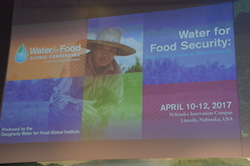 Welcome to the virtual newsroom for the 2017 Water for Food Global Conference held April 10-12, 2017 at the Nebraska Innovation Campus in Lincoln, Nebraska.
The event brings together over 400 researchers, practitioners, policymakers, farmers, faculty, students, thought leaders and industry experts to explore "Water for Food Security: From Local Lessons to Global Impacts," a theme inspired by the notion that global breakthroughs come from local action.Participants can expect three full days of learning and networking.
The 2017 Water for Food Global Conference is a North American Regional Event for the 8th World Water Forum, the world's largest water-related forum organized by the World Water Council.
This virtual newsroom includes links to photos, audio and video from the conference. All content posted here is available free of charge for digital or print publication or broadcast. Credit can be given to AgNewsWire.
View and download photos from the event here: 2017 Water for Food Global Conference Photo Album
Water for Food Focus on Sub-Saharan Africa
Water for Food Press Conference
A Champion of Water for Food Recognized
Jeff Raikes, Water for Food Board Chair Special Presentation for Jeff Raikes
Water Plays Role in Food Security Initiatives
Water in Food Security Investment Strategies - Robert Bertram, USAID
2017 #Water4Food is a Wrap
Opening remarks - Peter McCornick, Executive Director, Water for Food
Interview with Peter McCornick, Executive Director, Water for Food
A Little Lesson on the Water Markets
Interview with Richael Young, Mammoth Trading
Expanding Africa's Access to Ag Technology
Tim Prewitt, iDE Interview with Tim Prewitt, CEO, iDE
Moving Africa from Rain-Fed to Irrigated Farming
Martin Fisher, KickStart International Interview with Martin Fisher, Founder/CEO KickStart Int
More Audio
Remarks - Hank Bounds, President, University of Nebraska
Worldwide Freshwater Water Quality - Alan Kolok, Nebraska Watershed Network
The Role of World Bank - Steven Schonberger, World Bank
Water in Small Scale Systems - Sithembile Mwamakamba, South Africa
Ag in a Water-limited World - Ann Bartuska, USDA
Chasing Water in Changing World - Brian Richter, Nature Conservancy
Irrigation & Value Chain Development - Chandra Madramootoo, McGill University
Groundwater Governance from Field to Global Scales Panel
Heuermann Lecture - Arthur Gen Kawamura, former California Sec of Ag
Closing Panel - 9 Words to Wrap Up Conference
Upscaling Solutions: Expanding Access to Irrigation for Smallholders in Sub-Saharan Africa
Overview:
Timothy Williams, International Water Management Institute
Case Studies:
Joseph Ayembilla, Catholic Diocese of Navrongo-Bolgatanga, Ghana Richard Berkland, Valmont Industries
Meredith Giordano, International Water Management Institute Ruth Meinzen-Dick, International Food Policy Research Institute Sithembile Mwamakamba, Food Ag & Natural Resource Policy Analysis Network