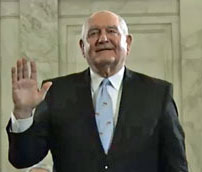 As the agriculture industry continues to operate without leadership at the USDA, industry groups, including the American Farm Bureau Federation (AFBF), have been urging the Senate to vote this weekand confirm Sonny Perdue as U.S. Secretary of Agriculture before recessing for spring break.
Interview with Scott VanderWal, AFBF
House Agriculture Committee Chairman Michael Conaway (R-TX) and Ranking Member Collin Peterson (D-MN) have also urged Congress to move Perdue's confirmation along by sending a letter to Senate leaders this week encouraging swift confirmation of Perdue. "Beyond the challenges that await the Secretary upon confirmation, we have been presented a budget blueprint for discretionary spending that had no input from the nation's Secretary of Agriculture," they wrote.
Rep. Austin Scott urges confirmation vote for Perdue